Since 1961, the World Meteorological Day commemorates the entry into force of the World Meteorological Organization (WMO) Convention which created the organization in 1950. The day also recognizes the essential contribution of the National Meteorological and Hydrological Services to the safety and well-being are established society. Every year, celebrations will focus on a current issue.

There is no doubt that our climate is changing and that it is not simply a hypothesis for the future: it is already a reality. According to studies, it will continue to follow-the climatological variation in the coming decades, as they are accumulated in the atmosphere more greenhouse gases that trap heat emitted by human activities.

Climate change is altering the natural rhythm of the seasons and is increasing the frequency and intensity of some extreme events such as heat waves weather events, droughts or heavy rains.

Therefore, given the current changes (which has a foretaste of our future) for the current year 2016 was chosen the slogan "Hotter, drier and wetter. Face the future".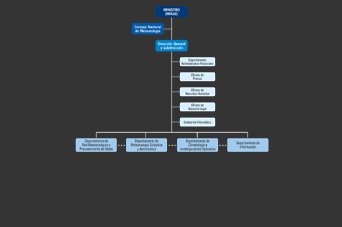 Organizational chart
Clicking on the banner , you can access all information related to the internal structure of IMN.
See more...