Asset Publisher
« Back
Meteorological Warning-IMN-120920-Heavy rains in the Pacific -update
Weather Warning Update
Heavy rains in the Pacific
September 12, 2020
2:30 p.m.
Diagnosis: The Intertropical Convergence Zone remains very close to the country, which, added to the atmospheric circulation present at high levels of the atmosphere and local factors, such as warm morning temperatures, the entry of sea breezes, have favored rainy activity strong and isolated this Saturday.

In the first half of the evening period, there have been scattered thunderstorms throughout the Pacific Slope, Central Valley and North Zone with amounts between 5-55 mm.
Forecast: During the remainder of this afternoon, the pattern of heavy downpours with a thunderstorm will continue, in the Pacific and North Zone regions, estimated accumulated between 20-70 mm, possibly higher amounts locally. Variable intensity rains are projected for the Central Valley, reaching amounts between 15-30mm accompanied by fog banks at the end of the period. On the other hand, in the mountains of the Caribbean, isolated rains will appear with amounts between 5-10 mm.

It is estimated that the precipitations extend to the first hours of the night in the coastal Pacific and North Zone with accumulated between 20-60 mm, on the other hand, for the Central Valley in this night period amounts between 10-20mm of a more punctual character.
Warning: High levels of soil saturation prevail in the North Zone, northwest of the Central Valley, the Nicoya Peninsula and the South Pacific; therefore, particular attention is recommended.

Due to the above, the IMN recommends:
Caution in areas vulnerable to flooding due to sewer saturation.
Take shelter in a safe place in case of hearing an electrical storm or perceive strong gusts of wind near the storm clouds, as well as caution against possible falling tree branches, power lines, among others.
Stay informed through social networks, Twitter: @IMNCR, Facebook: Instituto Meteorológico Nacional CR and the WEB Page: www.imn.ac.cr

Daniel Chacon Fernandez
Meteorologist
DMSA-IMN
---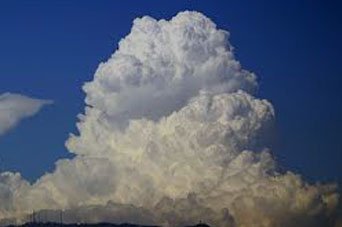 Atlas of Cloud
Everyone at some point have directed the view to the sky and observed the clouds. You have seen them dark, white, thin, dense, others that produce thunderstorms, lightning, hail and up to imagine well known figures.
See more
Services
The National Meteorological Institute, offers a range of services that can be ordered online in the next section of the site.
go to services