El Instituto Meteorológico Nacional se une para prevenir el COVID-19

El IMN ha implementado varias medidas para prevenir el COVID-19 tanto a lo interno como a lo externo de la institución. Como medidas internas han reforzado la limpieza, el lavado de manos y la desinfección de perillas y pisos. También, se han colocado afiches informativos preventivos en nuestras instalaciones.

Se ha recurrido al teletrabajo en un gran porcentaje del personal tanto para su protección como la de sus familiares, sin menoscabo alguno de las actividades operativas, de tal manera que no se ha afectado la prestación de nuestros servicios.

Publicamos en nuestra pantalla externa de manera constante información variada, tanto meteorológica como la relacionada con medidas de prevención atinentes a esta emergencia.

Por otro lado, dado el Decreto Ejecutivo 42227 de Emergencia Nacional emitido el día 16 de marzo, se le ha indicado al público que se abstenga de visitarnos presencialmente, y que utilice, ante cualquier consulta, los siguiente medios:
Página web (www.imn.ac.cr )
Correo institucional (imn@imn.ac.cr)
Central telefónica 2222-56-16
Facebook
Twitter (@IMNCR)

El IMN sigue con el monitoreo climático del país de manera constante en los ámbitos continental, aéreo y marítimo, así como atendiendo las consultas que por los medios señalados se nos hagan.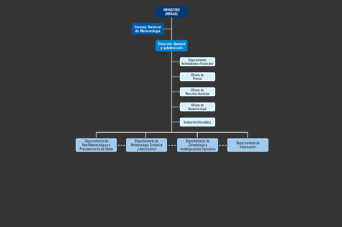 Organizational chart
Clicking on the banner , you can access all information related to the internal structure of IMN.
See more
Services
The National Meteorological Institute, offers a range of services that can be ordered online in the next section of the site.
Go to services